Oh Kermit with your nose so bright, Won't you guide my Lilly Pad Tonight?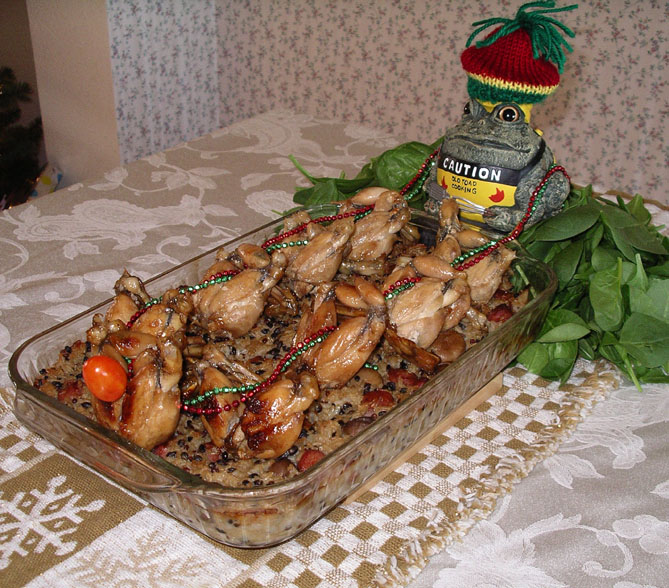 Santa Toad's Wild Rice Ride
Ingredients for Wild Rice Medley:
1 lb of Wild Rice Medley
6 oz Fresh White Pearl Onions – peeled
3 sm cans Button Mushrooms – drained
3 16oz cans of Chicken Broth
8 oz Water
3 Tsp Butter
1 lb Chicken & Apple Smoked Sausage (purchased precooked)
Ingredients for Frying Frog Legs:
9 Lg Frog Legs
1 ½ cups of favorite sweet Marinade
Cube of Butter
2 Cloves of Garlic – Pressed / Minced
1 Sweet Grape Tomato
Tooth pick
Red & Green Colored Beads for Reins
Santa Toad & bag of Spinach Leaves
I.  Take Frog Legs and spike them with a sharp fork on front and back to allow marinade to penetrate while soaking in a bowl over night.  Turn several times.
II.  In a Large Pot, add 3 cans of Chicken Broth, Water, and White Pearl Onions and bring to a boil for 5 minutes.  Add 3 tsp of butter, button mushrooms, and Wild Rice Medley.  Bring back to a boil for 5 minutes, reduce heat and cover with lid,  simmer for 40 minutes or until rice is fully cooked.  Add cut bite size pieces of Chicken & Apple Sausage.  Pour mixture into a pirex rectangular baking dish.
III. In a frying pan, melt cube of butter, add two cloves of pressed / minced garlic and cook until garlic starts to brown, then add marinated frog legs.  Fry on medium heat until brown.  Some of the marinate will cook out and glaze the frog legs for a finished look.
IV.  Presentation is the most important part of this dish.  Arrange four pairs of toad deer legs and Kermit with Sweet Grape Tomato using toothpick.  String the Red & Green colored beads around and through the legs and end in the arms of Santa Toad on his Lilly Pad of spinach leaves.